Hanshi Tony Annesi
• Advisory council, Nippon Kobudo Renmei (NKR)
• Steering Committee, International Society of Okinawan/Japanese Karate-do
• Member of 3 Martial Arts Halls of Fame
A martial artist since 1964
9th dan, Takeshin Aiki
8th dan, Takeshin Karate
6th Dan, Shotokan Karate
2nd dan, Judo
---
Bushido-kai Book Report: 7-minute review
The Shangrilla Artifacts Trilogy
---
Scroll 1: The Promise of Paradise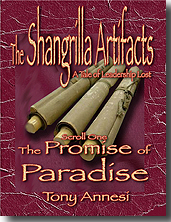 The first novel in the THE SHANGRILLA ARTIFACTS trilogy. A day worker steals 3 ancient scrolls from a secret archaeological dig in the paw of The Sphinx and sells them on the black market. They accidentally fall into the hands of an American professor, who first thinks they are forgeries and then begins to translate them, revealing a history, a civilization, and a drama never before known. Professor Lichtenstein and his colleague Tony Nakamichi, who is adapting the translation for a novel, are threatened not only for what the scrolls reveal, but also for another value that no one understands. The story, thousands of years older than recorded history, has its own 500-year history that unexpectedly intertwines with the lives of the contemporary scholars that are trying to bring it to light.
---
Scroll 2: Ascent from the Lower Plains
The second novel in THE SHANGRILLA ARTIFACTS trilogy, A Tale of Leadership Lost. In the second of the three ancient scrolls, King Shang, worried about his only son's accepting "an excursion to the lowlands", which he knows may mean something much more ominous, reveals his own experience on such an excursion to The Woman in Black, who tries to enlist the prince's classmates in an attempt to save him from a similar horror. Dr. Lichtenstein, the translator of the scroll, and his friend Tony Nakamichi endure subtle and not-so-subtle threats from someone who wants them to relinquish the Shangrilla Artifacts.
---
Scroll 3: The Sacrifice of Shangrilla
In the third novel in THE SHANGRILLA ARTIFACTS trilogy, the Shangrillan classmates plot to escape from Null, but cooperation with their captor seems the only way. One betrayal leads to another until they find themselves in the arena facing each other. Professor Lichtenstein and Tony Nakamichi finally meet the person who has been tormenting them in his quest for the Shangrilla Artifacts and accidentally discover his hidden connection to the scrolls that are older than recorded history.